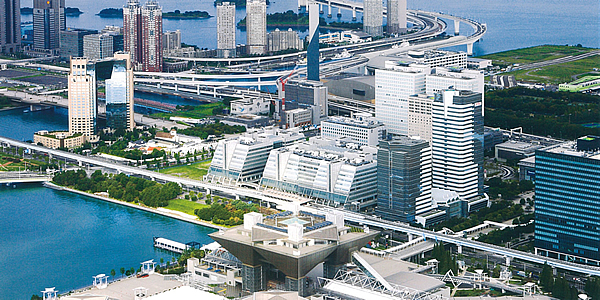 Big Sight Tokyo Fashion Town (TFT) Hall is conveniently located adjacent to Tokyo Big Sight in the capital city's waterfront district, and is a versatile venue suitable for an extensive range of events. The West Wing provides three main halls of varying sizes on one level.
TFT Hall 1000 holds large-scale exhibitions with its generous floor space of 900 sq. meters.
Ideal for international conferences, film screenings and concerts.
TFT Hall 500 offers 440 sq. meters that come with rollback chairs and a simultaneous interpretation system.
The East Wing is set aside for meeting rooms, with retractable partitions allowing for flexible configurations.
High-speed Internet connectivity is available in all three halls and 14 meeting rooms.
East Wing 3-6-11 Ariake, Koto-ku, Tokyo
135-8071.
West Wing 3-4-10 Ariake, Koto-ku, Tokyo
135-8071
Tel: +81-3-5530-5010
Fax: +81-3-5530-1222
www.tokyo-bigsight.co.jp/english/tft/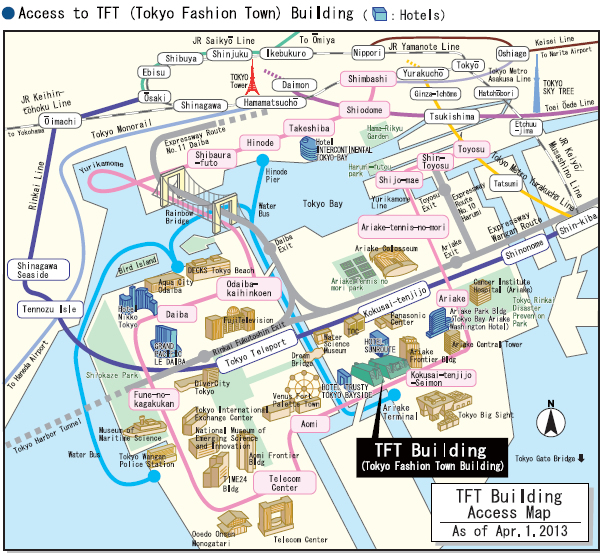 Location
Just in front of Kokusai-tenjijo Station on Rinkai Line. Close to Odaiba area.
From Narita International Airport
About 70 minutes by Airport Limousine Bus bound for "Odaiba and Ariake areas"
Fare: JPY2,700 one-way for adult (JPY1,350 for child)
* A seat reservation is required for buses to be departed from the hotel.
From Haneda Airport
About 40 minutes by Airport Limousine Bus bound for "Takeshiba, Odaiba and Ariake areas"
Fare: JPY600 one-way for adult (JPY300 for child)
* A seat reservation is required for buses to be departed from the hotel.
About 33 minutes by Monorail from Haneda Airport Terminal 1 Station to Tennozu Isle Station and transfer to Rinkai Line.
Get off at Kokusai Tenjijo Station of Rinkai Line. Fare: JPY660 one-way for adult
About 35 minutes by Monorail from Haneda Airport Terminal 2 Station to Tennozu Isle Station and transfer to Rinkai Line.
Get off at Kokusai Tenjijo Station of Rinkai Line. Fare: JPY730 one-way for adult
From JR Tokyo Station
About 20 minutes on JR Keiyo Line to Shinkiba Station and transfer to Rinkai Line
From JR Shinagawa Station
About 20 minutes on JR Yamanote Line to Osaki Station and transfer to Rinkai Line